Funeral and Cremation Service Planning in Summit, PA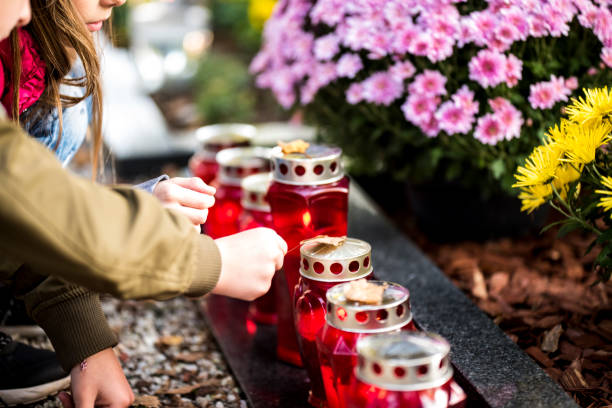 Burton Quinn-Scott Cremation & Funeral Services is ready to help your family when a death in the family happens. We've been serving families since 1876. We have convenient all-faith chapels at each location and we offer on-site cremation so you know your loved one is treated with respect and care. Contact us at 814-454-4551 or visit us at 602 W 10th St, Erie, PA 16502.
Planning a service event such as a funeral or memorial is a chance to commemorate a life. With that in mind, it's essential that the experience be well-considered and carried out. That takes some forethought and extra hands of support to do it right. Fortunately, there are experienced funeral and cremation providers in Summit, PA that are capably qualified to help your family when a death in the family happens. As you work with them to make plans, here are some things that will need to be thought through.
Attendance:
If the funeral or memorial service will be open for the community to attend, think about who will likely come and how many people you might expect at the service. While you won't know exactly how many might be there, you can get a sense of things by doing a short evaluation of the deceased's network of family, friends, community ties, and more.
Write down the names of the family first, followed by close friends. You'll probably find that more names come to mind as you begin this exercise. Capture all the names on your list. Next, consider other connections that the decedent had to others. Think of their professional relationships, civic or hobby associations, faith community, or any other group with which they associated. If you don't know names or contacts, reach out to those places to ask for insights into any that should receive the news.
You should always call family and close friends first to tell them about the passing of their friend and loved one. A personal phone conversation from an immediate connection to the deceased is essential. More distant friends and relatives can receive the news secondhand, or less personally, such as by social media or email. The greater community can be informed of the loss by digital publishing of an obituary. Remember, there is no need to formally invite attendance to a funeral, but making information available about when and where services will be held is good practice.
Earth Burial or Cremation:
There are pros and cons to both ways of laying down a loved one. A traditional funeral with earth burial is a proven manner of care that is treasured by many as their preferred solution. It provides a means of saying goodbye in the presence of the fallen. Seeing them one more time before closing the casket can bring a tangible sense of closure before laying them low in the earth under a headstone where they can be visited for years to come.
Cremation is another excellent option that many families and individuals prefer because it provides a wide variety of options in death. It can be much more affordable because it doesn't necessarily require a casket, grave plot, embalmment, or headstone. The ashes can be taken and scattered in a place of choosing, serene and beautiful. On the other hand, inurnment and placement in a columbarium or mausoleum is also a popular way to care for remains. The choices are manifold.
If the deceased made their wishes known before their passing, you might choose to honor their requests. But ultimately, what you decide to do is a personal matter and should be made in the light of all other considerations. Financial constraints are an essential factor. Time and burden on the living are another. Consider your circumstances and plan accordingly.
Time and Date
After you've chosen the preferred manner of disposition, it's time to decide where the funeral or cremation in Summit, PA, will be held. Perhaps it will not be held at the funeral home at all; instead, you may have services somewhere else away from the community in a more private setting.
Funerals are generally held soon after death so that the body of the deceased can be present at the service. Memorials can be held on a similar timeline but have the option to be delayed to a later time since the body will not be present at the commemoration. Both services are commonly held in funeral homes, churches or other places of worship, a club lodge or civic center, or even a private residence.
Service Leader
Funerals and Memorials are commonly led by a clergy member, such as a pastor, minister, reverend, rabbi, or other faith leaders. If a secular leader is preferred, you can choose to enlist the help of a funeral professional, a life celebrant, a willing friend, or a family member. There are other options as well, and there is no wrong choice. Choose a service leader that will help your family and community to come together to grieve and begin healing and adjusting to life without a loved one.
Funeral and Cremation Support in Summit, PA
When death happens, we're here to help. Your family is are our priority. Let our team of dedicated funeral care professionals support your funeral and cremation needs in Summit, PA.
Funeral & Cremation FAQ's
Can a pet be buried with a human?
Yes, a pet can be buried with a human. While a coffin or casket plays a functional part in carrying the remains of the person who has died, the way we memorialize and honor a loved one's life may still play a significant role. A receptacle with a flexible deck is tapered on the shoulder. A case has a hinged lid which has a rectangular shape. Learn More.
What is memorialization for a cremation?
You might choose ground burial of the urn. If so, you may usually choose either a bronze memorial or monument. Cremation niches in columbarium are also available at many cemeteries. Learn More.
What is the purpose of embalming?
Embalming sanitizes and preserves the body. Embalming makes it possible to lengthen the time between death and the final disposition, allowing family members time to arrange and participate in the type of service most comforting to them. Learn More.